President of Montenegro, Mr Milo Đukanović, received credentials of newly appointed extraordinary and plenipotentiary ambassadors of the Republic of Kosovo, Mr Iljber Hisa, Russian Federation, Mr Vladislav Vladislavovič Maslenikov, Bosnia and Herzegovina, Mr Branimir Jukić, Slovenia, Mr Gregir Pesker and of New Zealand, Mr Anthony George Simson.
Mr Đukanović expressed expectation that by the end of the mandate of the new ambassador of Russian Federation relations between two countries would have improved.
He said he was sorry that it wasn't the case but expressed readiness to bring those relations to satisfactory level.
President said that there was a lot of space for strengthening economic cooperation, especially as there are so many tourists and representatives of Russian business in Montenegro.
With great respect for tradition and awareness that intensifying relations requires time and consistency, Mr Đukanović recalled Russian support especially before referendum on independence and renewal of international recognition of Montenegro.
Mr Maslenikov pointed out that he was honored to represent his country in Montenegro.
He agreed that strained relations were consequence of problems at international level. He said our nations deserved better.
"If there's political will for normalizing relations, we are ready to work on it", said Mr Maslenikov.
Ambassador expressed readiness for pragmatic cooperation at economic and multilateral level.
He added that Russia was carefully monitoring Montenegrin integration process. He said Russia was never against it.
Mr Đukanović said that doors of every Montenegrin institution were open for the Ambassador Maslenikov and other Russian representatives, all with the aim of overcoming current situation and strengthening bilateral relations.
In conversation with the ambassador of Kosovo, Mr Đukanović pointed out the progress made in the relations between Montenegro and Kosovo and improvement in the cooperation.
"One of the priorities is high-quality infrastructure connection through construction of the new railway, which will stimulate economic and tourist trends".
President stressed that Montenegro was carefully keeping track of the current affairs in Kosovo in the context of resuming Belgarde-Priština dialogue.
"We count on Montenegro as champion country in European integration", said Mr Hise.
During conversation with the ambassador of Bosnia and Herzegovina, Mr Đukanović said he expected his diplomatic mission to be the continuation of the previous success.
Ambassador Jukić said Montenegro "is an example of a good neighbor". He thanked Mr Đukanović for honest friendship.
He invited president Đukanović to visit Bosnia and Herzegovina and Mr Đukanović gladly accepted.
Mr Đukanović said he was very satisfied with relations Montenegro has with Slovenia.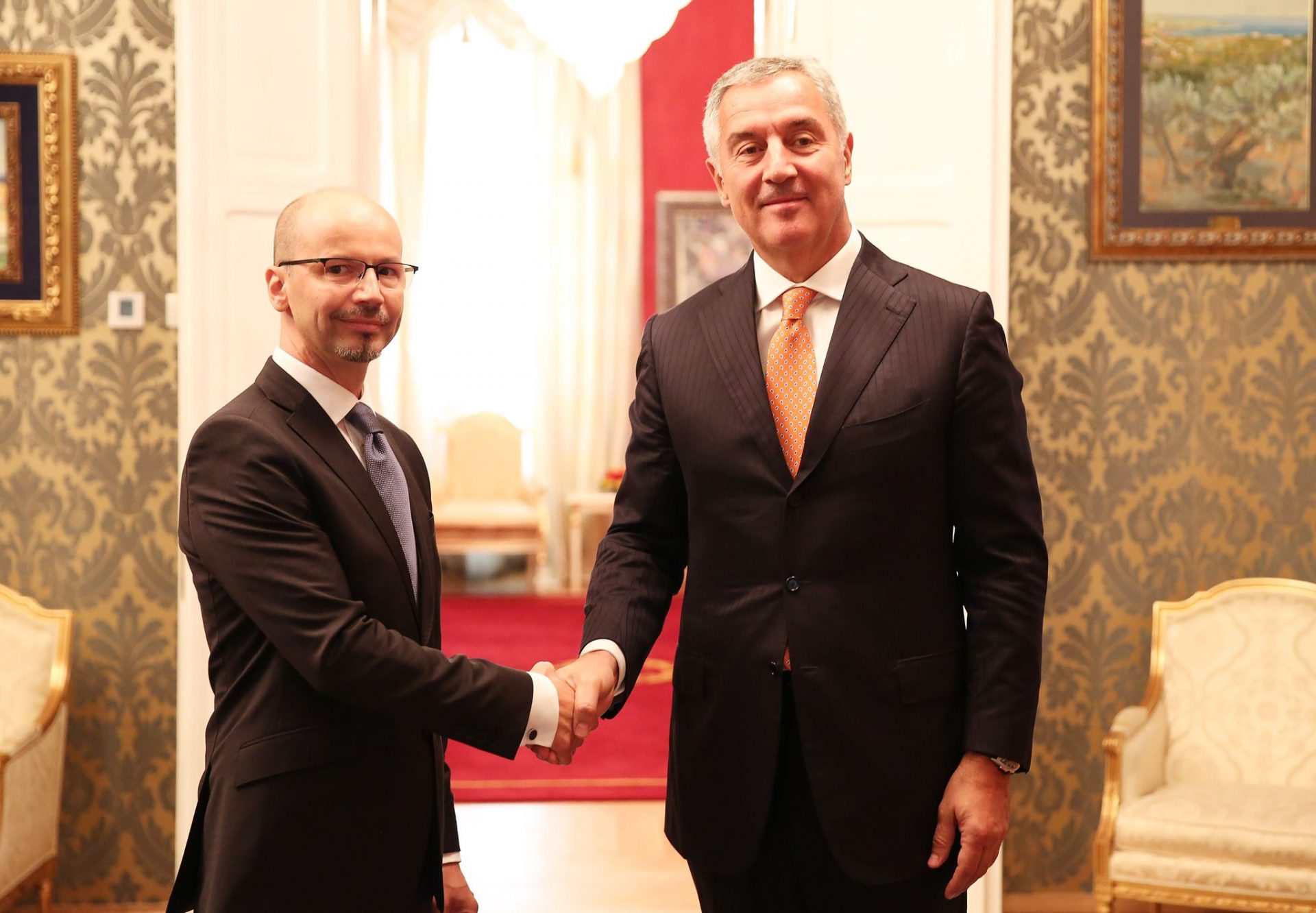 "Your friendship was particularly important in overcoming challenges and in integration process", said Mr Đukanović.
Mr Đukanović pointed out that there was room for improving relations with Slovenia in the area of education, science, culture and healthcare.
Ambassador Presker said that numerous Slovenian investors in Montenegro were proof of stable cooperation.
Regardless of geographic distance, Montenegro is committed to improving relations with New Zealand, said Mr Đukanović .
Ambassador Simson said he was honored to be accredited in our country.
He expressed interest in improving cooperation in the area of tourism, agriculture, and renewable energy.
He said New Zealand would keep supporting Montenegro in its commitments.