Economic activity is slowing in the Western Balkans, WB, alongside investments and exports in the six countries of the region. According to the latest Western Balkans Economic Report called 'Rising Uncertainties', growth is estimated at 3.2 per cent in 2019, which is by 3.9 per cent lower than in 2018. Growth in North Macedonia has continued following a major slowdown in 2019, while Kosovo is expected to record strong growth at 4 per cent. Most economies in the region are seeing slower growth compared to one year ago. Even though the regional economy is foreseen to grow in 2020 and 2021, it will remain slightly below the ten year high of 2018.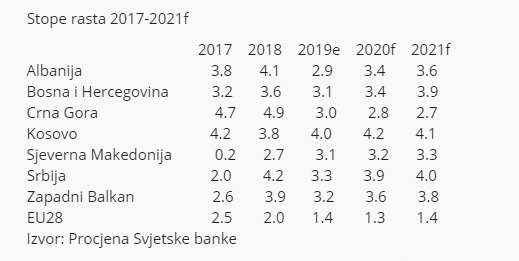 "Continuing growth in the region will help to create jobs, bring more women into the labor market and help to curb emigration," says Ms Linda Van Gelder, World Bank Director for the Western Balkans.
She continued: "However, economic clouds on the horizon point out to a need for policymakers to reinforce competitiveness, increase the efficiency and effectiveness of public spending, and resolve rising fiscal imbalances in order to build on these successes and encourage sustainable growth."
Despite the economic slowdown, the unemployment rate in the region continued to decline reaching historic lows.