Only 7 out of 39 opposition MPs who have signed Agreement on Future attended the meeting organized by the "Resist" movement. Representatives of most parliamentary parties didn't come. Democratic Front (DF), Socialist Democratic Party (SDP), part of Socialist People' Party, United Montenegro and several independent MPs failed to attend the meeting. There are so many reasons for that. Broad divisions and animosity among political alliances and parties would be the main one.
Representatives of URA and Democrats, leader of Workers' Party, Mr Janko Vučinić,Ms Anka Vukićević, Mr Aleksandar Saša Damjanović and Ms Danijela Pavićević attended the meeting. Leaders of URA and Democrats didn't attend the meeting.
The main message of the meeting is that this war within opposition must come to an end and that technical government must be formed. Resit movement announced protests in autumn again.
Members of Democratic Montenegro, Mr Momo Koprivica, accused DF of failing to turn up for the meeting because they were afraid of the face-to-face contact with Democrats. He suggested boycott of the Parliament and elections.
Mr Aleksandar Damjanović said he wanted to see every opposition member gathered in one open and direct conversation.
He called on the opposition to finish the war.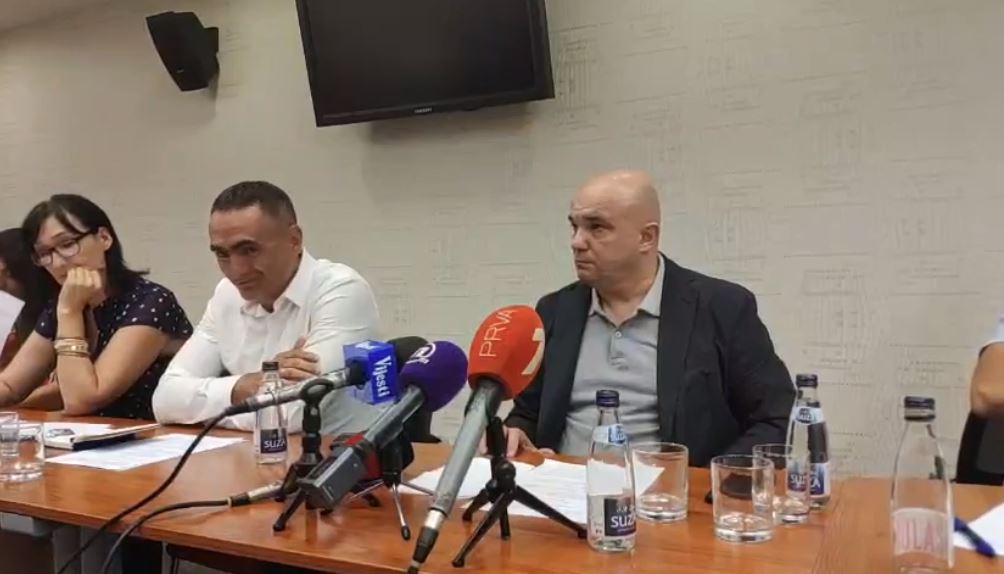 Technical government or boycott
Leader of Workers' Party, Mr Janko Vučinić, says that the situation on the political stage in Montenegro is complicated. As he said, the Brussels plan had to address the issue of technical government.
"However, the plan doesn't say there's no technical government. Therefore, when the Committee starts its activities, the majority of the opposition members has to be there. Otherwise, DPS wins. We have to be united and make DPS accept technical government", said Mr Vučinić.
He adds that boycott is another solution.
"We must focus on Montenegro, improvement of quality of life. Let's build a new, better Montenegro", said Mr Vučinić.
Ms Anka Vukićević agreed. No technical government- no elections.
Ms Danijela Pavićevič also urged the opposition members to stop arguing.
URA members keep their word
Representative of URA, Mr Miloš Konatar, said that everybody had to be aware of the responsibility they had towards the citizens of Montenegro.
"We must not let down those who were coming to protests, or those who have been fighting for changes and liberation of our country for decades", said Mr Konatar.
He says that members of URA keep their word.
He added that opposition shouldn't be afraid of boycotting the elections.
"URA will obey every provision of the Agreement on Future", said Mr Konatar.
New protests in autumn
Leader of the "Resist" movement, Mr Džemal Perović, said that the current situation hadn't been envisaged by the Agreement on Future.
He pointed out that the Agreement was the only way towards peaceful change of power in Montenegro. He said that there would be another wave of mass protests in autumn.
Inappropriate meeting
DF failed to attend the meeting. Here's why:
"Since that we have been officially informed that Mr Brano Gvozdenović, Ms Marta Šćepanović and Mr Nikola Rakočević, DPS members, had scheduled extraordinary session for 23 August, in order to complete the agreement the had reached with Democrats, we feel obliged to say this. After Democrats and DPS had made the Agreement on Future seem absolutely senseless, we find this meeting inappropriate#, said the representatives of DF.
They added that DF kept its promise and adhered to the Agreement on Future and that, therefore, they wouldn't be part of the Committee and secret and public deals with DPS.
"Also, we maintain that representatives of the "Resist" movement have been drawing their legitimacy from civil protests. Unfortunately, these protests were stifled and it would be good if they resumed", said the representatives of DF.