One of the convicts in the case the Special State Prosecutor's Office (SDT) is conducting for plotting state coup in Montenegro, Mirko Velimirovic, voluntarily came to the Special Public Prosecutor's Office three days ago and said he had been forced to sign a statement in a law firm. He allegedly accused the chief special prosecutor Milivoje Katnic in the statement that he had forced him to give a false testimony, Dnevne Novine newspaper writes.
It is not known whether Velimirovic referred to the statement presented yesterday by DF official Predrag Bulatovic.
However, it is known that he did not withdraw his earlier given pledge according to which he has been convicted, which has become final in the meantime.
Velimirovic lives with his family in Zubin Potok (Kosovo) and he complained to Montenegrin Prosecutor's Office about receiving death threats there, which is why he lives in constant fear for his and his family members' lives. Allegedly, he was threatened by his former comrades.
However, DN has not managed to find out if he mentioned specific names. According to unofficial information, he said that some people were forcing him to do what they asked of him and that he was forced to do so in the future.
Velimirovic misused
DF official Predrag Bulatovic presented a statement, in which Velimirovic allegedly denied being involved in planning a terrorist attack before a court in Novi Pazar, stating that his confession was actually fabricated by SDT.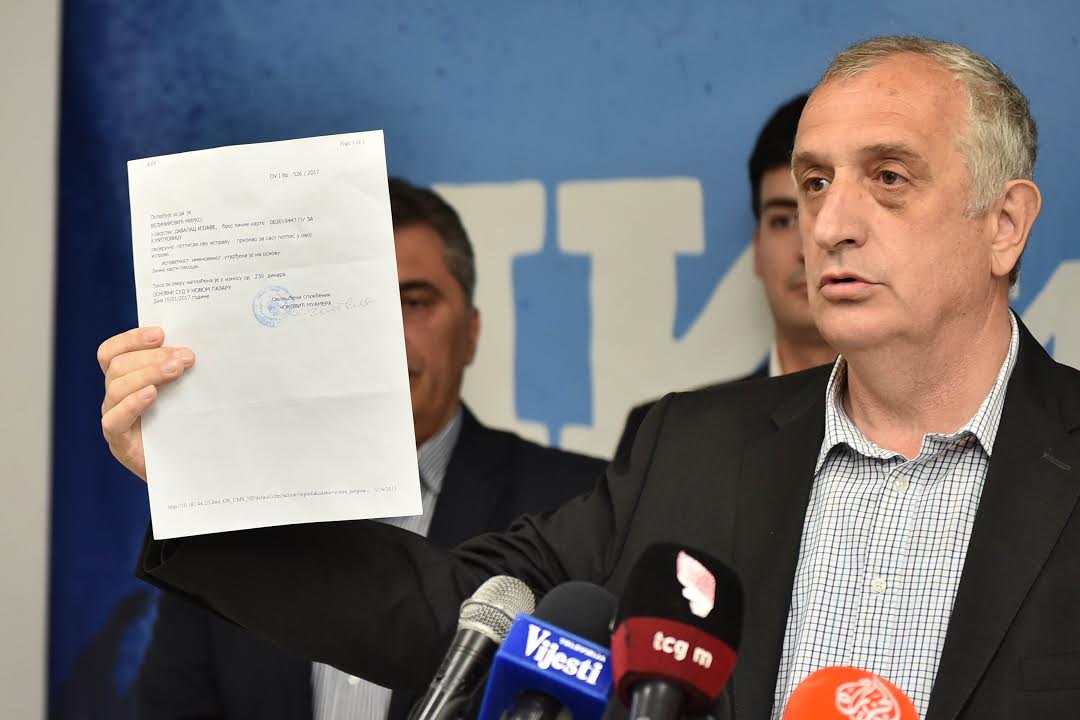 Bulatovic got Velimirovic's statement from a friend from Serbia and presented its content to the public yesterday.
This letter, which the cooperative witness allegedly submitted to the court in Serbia on 16 January 2017 through the lawyer Zoran Janicijevic, states that "after he had received the judgment of 7 December 2016 and read it carefully, he realised that he was misused in a certain way by SDT for the purpose known only to that authority".
He allegedly stated that he did not want to "cause suffering, loss of freedom or conviction of anyone by his false testimony".
"I want to ease my conscience presenting the only truth on October 2016. The formulation of my alleged confession that is mentioned in the judgment was made by Katnic himself and I did not read it or heard that someone red it to me, I just signed it," the statement says.
Velimirovic allegedly claims he was blackmailed by freedom of 17 people who trusted him.
"When I signed the confession, my only intention was to save 17 people from being imprisoned after I invited them to the rally to express their dissatisfaction exclusively by peaceful means. None of us had any weapons. Since I was blackmailed by freedom of people who trusted me I would accept to sign anything," Velimirovic said.
"We did not intend to be violent against citizens, the police, or to take power by force," Velimirovic's statement read by Bulatovic says.
"I've never made arrangements with any person with the surname Sindjelic referred to in the judgment, I have nothing to do with any armed attack, I have no knowledge about Bratislav Dikic, nor did I know him," Velimirovic allegedly stated.
Velimirovic reported coup plan
Mirko Velimirovic himself had come to Podgorica earlier and told the police and then SDT that a violent overthrow of the government was being prepared on election day.
During his testimony, he said that he had purchased automatic rifles for the conflicts in Podgorica, but that he had thrown them in a lake in Kosovo, thus prevented their bringing to Montenegro. He also said he had received €30,000 from Sasa Sindjelic to buy the weapons that was supposed to be used by Bratislav Dikic's group to cause bloodshed and breach into the Parliament of Montenegro on election day, 16 October 2016.
On 5 December last year, after his plea bargain with the Prosecutor's Office had been accepted by the High Court in Podgorica, he was sentenced to a suspended sentence of six months in prison. Since then, he has visited SDT on two occasions to inform the prosecutors about the threats he received after this testimony.
No court seal on the statement
Commenting on Velimirovic's allegations, Bulatovic said that the special prosecutor was currently in a big trouble, since his entire work on the case was called into question.
"After this, as far as we are concerned, there is no legal process. This is an original statement, signed and sealed in court," said Bulatovic.
However, as it can be seen in a document that was handed out to reporters, the page with alleged Velimirovic's statement contains neither court seal, nor reference number, nor date and place of signing the statements.
Statement recorded in court
Everything said in his written statement to SDT, Mirko Velimirovic confirmed before the Special Chamber of the High Court in Podgorica. His testimony was recorded by a court official camera and it represents an official piece of evidence in the process.